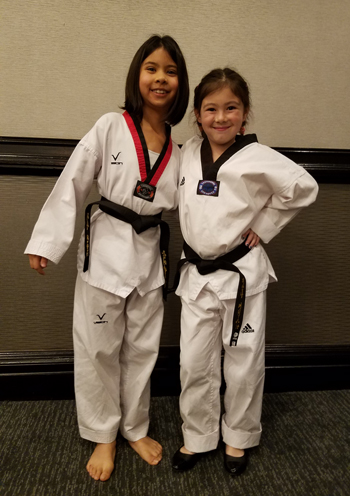 Tessa Sundar and Liana Jennings are best friends and classmates in the 3rd grade at Kids Connection.  In January of 2017 these friends underwent a very rigorous 24-hour overnight test that involved sparring, Judo, cardio & conditioning, team building exercises, and an overnight stay at the Gold Medal Martial Arts Studio.  They were awakened at 3:30am to demonstrate their traditional and weapons forms in front of family and friends.  Both girls bested their challenges and demonstrations and were awarded their 1st degree black belts in Taekwondo!  Liana was the youngest that year to obtain her black belt at age seven with Tessa obtaining hers at the equally impressive age of eight!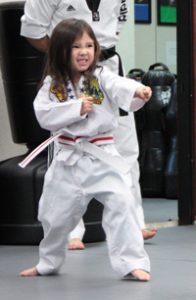 Liana started Taekwondo when she was three years old in the Mighty Monkeys program that is geared towards toddlers to prepare them for the standard belt levels.  She successfully earned her Mighty Monkeys black belt and was able to start at the standard yellow belt level at age four.  In 2014, Liana invited Tessa to a Bring Your Friend event at the studio.  Tessa enjoyed the kicking and board breaking during the event and thus started her Taekwondo journey.
Both students work hard and practice their forms and techniques during Taekwondo classes and also on their own.  
Tessa and Liana both credit Kids Connection with helping them to excel at Taekwondo.
We are very proud of Tessa and Liana and wish them luck on obtaining their 2nd degree black belts in January 2018!